Bangkok Hotels
Bangkok houses some of the worlds best hotels, from the Oriental Hotel to a $8 Guesthouse you can find it all here in Bangkok "The city of Angels".
The best places to stay for tourists is along the Sky Train route, Sukumvit Road, Silom and Siam as the excellent sky train takes a lot of hassle out of negotiating Bangkok's humid traffic chaos. Cheaper places are around the famous hippy hangout Khao San road.
Bangkok 3 star hotels and also Bangkok 4 star and 5 star hotels and accommodation. Many cheap hotels in Bangkok and also the Bangkok Airport hotels.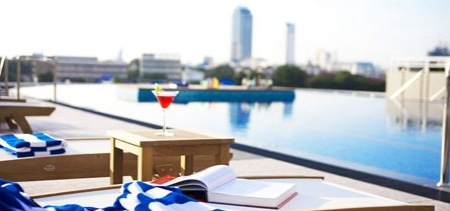 Budget Accommodation
In Bangkok a tourist has a wide range of accommodations to choose. From budget living in cheap guesthouses to luxury five star hotels. In Bangkok everyone can find a room, regardless the size of his or her wallet.
Most types of accommodations has one thing in common though, you will often get a lot for your money in Bangkok compared to other big cities and metropolises. Bangkok is a city where temperatures often pass 30 degrees Celsius, a room with refreshing air-condition can be worth a few Baht extra and a hotel with a pool can also be a very wise choice.
It is wise to leave your values in the hotel's safety box before you leave your room for sightseeing, shopping etc. If your belongings are stolen from your room, it is not common that the hotel will compensate you in arrears.
Range of Prices
A simple room in a guesthouse costs about 200 Baht and up per night.
A hotel room costs about 800 Baht and up.
A hotel room with good standard is about 1500 Baht and up.
A luxury room or suite is from about 5000 Baht and up per night.
Hotel's Advices
There is a lots of hotels in Bangkok but you can find advice here
Hotels by Location
Bangkok has many popular areas to stay at, Sukhumvit Road, Silom Road and budget accommodations around Khao San Road in the Banglamphu district are three popular examples. Also along the Chao Praya river, around Ploenchit Road and Lumpini and in most other districts in Bangkok city you will find a hotel, motel or guesthouse.
See our Hotels Advice by Location Here