Economy & Business
Bangkok is the economic center of Thailand, dominating the country's economy and dwarfing any other urban centers.
Development continues to pour in to Bangkok mostly neglecting the rest of the nation. It is ranked as the 55th richest urban agglomeration, slightly behind Singapore, Jakarta, and Metro Manila. Its combined economic output is roughly 89 billion dollars in purchasing power parity terms, which accounts for roughly 16 percent of Thailand's GDP also in PPP terms. However, there is a quite a large discrepancy and statisticians and economists would claim that Bangkok accounts for nearly 75 percent of Thailand's service sector which accounts for 45.2 percent of Thailand's 548 billion dollar economy.

With the given GDP of the city, the estimates for per capita income is roughly 14,000 dollars, fairly low for a megacity. More realistic but unclaimed estimates put the city's output as high as 210 billion dollars, accounting for 38 percent of national income and per capita income at 33,000 dollars.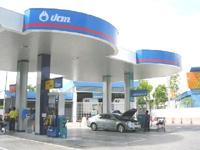 The Stock Exchange of Thailand, or the SET is located on Ratchadaphisek Road in inner-Bangkok with over 523 listed companies and combined market capitalization of about THB 6 trillion (USD 197 billion) as of 31 January 2007.
Due to the large amount of foreign representation, Thailand has for several years been a mainstay of the Southeast Asian economy and a key center in Asian business. The indices of the stock exchange are SET Index, SET50 Index and SET100 Index. As of Fall 2009, the index is one of Asia's top performing indices, up 58 percent since January.
Bangkok is home to the headquarters of all of Thailand's major commercial banks and financial institutions; 27 financial institutions hold at least 1 billion dollars in total assets.
Their bank deposits totaled approximately THB 9.6 trillion, the equivalent of USD 314 billion at the end of the third quarter in 2007. A large number of multinational corporations base their regional headquarters in Bangkok due to the lower cost of the workforce and firm operations relative to other major Asian business centers.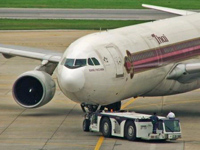 Thirteen Bangkok-based companies make the Forbes 2000 list annually. The list includes the largest Thai bank, Bangkok Bank, the country's largest listing as well as the state-owned energy firm PTT, and the renowned Charoen-Phokphand agri-foods conglomerate.
In perhaps every industry, Bangkok is the sole innovator and contributor to Indochina (excluding Vietnam). The market for flights to enter Laos and Cambodia is heavily dominated by airlines based in Bangkok such as THAI Airways International, Bangkok Airways, and the multitude of airlines in Thailand. Telecommunications, retail, real estate, airlines, and media conglomerates mainly cater to the country's growing population, however, few Thai corporations venture overseas and gain notoriety.
Tourism is a significant contributor to Thailand's economy, providing about 5 percent of GDP.
Bangkok is Thailand's principal international gateway and a destination in its own right. This giant market has made Bangkok a prime location for hotel operations as well as the launching pad for small and medium accommodation enterprises.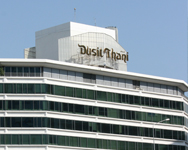 Moreover, Bangkok-based hospitality companies such as Dusit Thani Group, Erawan Group, and Siam Hotels and Resorts, have all expanded operations and can officially be classified as a multinational corporation in its own right. 
Income inequality is a growing issue in Bangkok, especially between relatively unskilled lower-income immigrants from rural provinces in Thailand and neighboring countries and middle class professionals (45% of registered residents), business elites, and retired and working foreign expats.
About 7 percent of Bangkok's population (excluding illegal immigrants who constitute about 5-8 percent of population) live below the poverty line compared to the national average of 9 percent.
Money Converter