Culture
As many Asian big capitals, Bangkok is a  swarm of young talent, but Bangkok also a the cultural center for Thai traditional arts.
Perhaps the most active players on Bangkok's art scene are its cultural centers.
These ensure that scene stays booked with top-notch exhibitions and performances from the world of visual arts, dance, drama, music, fashion, film, design, literature and more.
The foreign contingent regularly put on events showcasing international talent.
Ring up, check their websites or just drop by to find out what's on.
for more informations about cultural event in Bangkok you can visit:
Theaters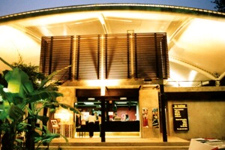 Bangkok's performing arts scene may not throb like in other cities, but look under the surface and you'll find it there, beating to its own rhythm. No, there aren't many plays, stage shows or performance pieces being staged, and sometimes it's as if mainstream pop and rock acts are the only things that captivate the masses.
read more
Bangkok Theaters
Ram Thai (Thai traditional dance)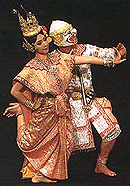 Dance in Thailand (Ram thai) is the main dramatic art form of Thailand.
Thai dance, like many forms of traditional Asian dance, can be divided into two major categories that correspond roughly to the high art (classical dance) and low art (folk dance) distinction.
Although the traditional performing arts are not as vibrant as they once were, suffering inroads by western entertainments and generally changing tastes, Thai dance drama is not extinct. What survives displays the elegance of an art form refined over centuries and supported by regal patronage.
The Thais reputedly first acquired a dance troupe when, in AD 1431, they conquered the ancient Khmer capital of Angkor and took as part of their booty an entire corps de ballet. Dancers whose performances had once been seen as a symbolic link between nature, earth and the realm of the gods.
Aside folk and regional dances (southern Thailand's Indian-influenced manohra dance, for example), the two major forms of Thai classical dance drama are khon and lakon nai. In the beginning both were exclusively court entertainments and it was not until much later that a popular style of dance theater, Likay, evolved as a diversion for the common folk who had no access to royal performances.
Bangkok Opera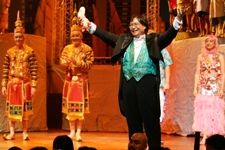 The Bangkok Opera is an opera company founded in 2001 as a production company to mount Madana, the first full-length grand opera by a Thai composer.
This production featured in the title role the American soprano Stacey Tappan.
The Bangkok Opera's 2006 production of Das Rheingold with a unique look drawn from Southeast Asian mythology. In 2002, under artistic director Somtow Sucharitkul, the Bangkok Opera began a series of productions with Purcell's Dido and Aeneas, moving onto larger-scale works such as Mae Naak, The Magic Flute, and Turandot.
At the end of 2005 the Bangkok Opera declared its first "complete" season and also started a five-year project to perform the complete Wagner's Ring Cycle in Bangkok. Its resident orchestra is the Siam Philharmonic Orchestra and its resident chorus is the Orpheus Choir of Bangkok.
The opera company performs regularly at the Thailand Cultural Centre
Art Museum & Culture Center
Bangkok's many museums exhibit some of the most sublime, and strangest, collections of relics you can imagine, giving visitors a wonderful insight into Thailand's colourful culture and unique heritage. Some are housed in buildings just as interesting as their contents, like Kamthieng House, a 19th Century teak house and former abode of a rice farmer, the Bangkok Folk Museum and Jim Thompson's House. The best place to start has to be the National Museum, in Rattanakosin. Its collections spanning all periods of Thai history offer an unsurpassed introduction to the country's art and architecture.
There is also a lot of modern museum in Bangkok.
read more

Bangkok Museums
Thai Music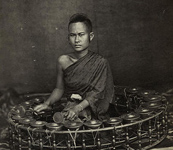 The music of Thailand reflects its geographic position at the intersection of China and India, and reflects trade routes that have historically included Persia, Africa, Greece and Rome.
Thai musical instruments are varied and reflect ancient influence from far afield - including the klong thap and khim (Persian origin), the jakhe (Indian origin), the klong jin (Chinese origin), and the klong kaek (Indonesian origin).
read more
Cinema & TV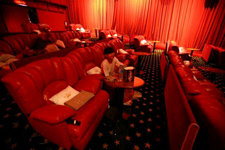 Bangkok boast world class, state-of-the-art movie theaters showing the latest Hollywood and Thai blockbusters. A select few cinemas, notably House and Lido, screen less common independent and international films. Foreign films are mostly screened in their native languages with subtitles in Thai.
read more
Reading & Screening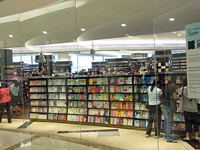 Bangkok is home to an eye-poping array of excellent book shops, small, large and spawling.
just head for any major mall - Siam Paragon, Emporium, All Seasons Place, CentralWorld or Central Chitlom, to name a few - and look for chain favourites like Asia Books, Kinokuniya, B2S, Nai-In or Bookazine.
Plenty of other stand-alone local book stores across town offer the latest in print, new and used..