Massage Parlors
The massage parlor or in other words "Aab Ob Nuad" takes place in Thailand for quite a long time.
Customers for this spa type are definitely gentlemen.
It's where the customers can come and pick the therapist and enjoy variety types of service each venue has to offer.
Night is the only time when service is available.
Services
Massage in this spa are in private rooms with attached bathroom are available for clients privacy. Customers can choose different type of massage and can negotiate with the therapist about extra-services.
Thai massage from 300 bath/hour
Aromatic Oil massage from 400 bath/hour
4 hands massage from 800 bath/hour
Ball massage from 500 bath/hour
Body to Body massage from 1500 bath/hour
Outside services from 600 bath/hour
Extra services must be negotiated with therapist
Massage Parlors review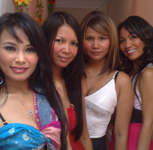 Bangkok's massage parlors are your inner-city gateways to seventh heaven.
There is a lot of massage parlors in Bangkok in silom/Patpong district, in Sukhumvit area, but also everywhere in Bangkok.
Body to body Massage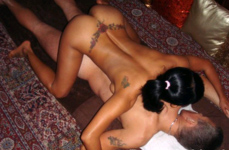 This has to be the ultimate entertainment experience in this exciting city, if you have not tried it, you owe it to yourself to try this at least once.
Upon entering the establishment, you will be lead to a reception area where you will see a group of girls in a glass gallery (some what like "fish bowl"). While you are admiring the gallery, you can always get a drink while you take your time to make your choice. Once you have decided on your girl (or two), just beckon the manager and tell him the number. The girl will be brought out greet you, and you could have a drink with her, or just head up to the private room (that's after you settle the bill).
In the room, you get another chance to order another drink and one for the girl, from the tea lady. Have a quick chat if you are so inclined, and get on with the business or pleasure. Depending on the option that you have chosen (body massage or normal), you will first be placed in a sudsy bath, pleasurably cleaned up, if you have chosen the body massage, you will get the rubber mattress treatment. If you have not experienced it, we highly recommend the "body massage" option. We also highly recommend that you get two girls, it is called the "sandwich". Extremely pleasurable option.
Once you have dried up from the wet session, you will be guided to the (usually round or oval) bed. There's where the second round of fun begins (what? you didn't do it during the bath?). And this is when you know the girl likes you, when she wants yet another round with you. The body massage session normally takes about 1 hr 30 min to 2 hr 30 min.