More Destinations
Everybody goes holidays in Thailand start by 2 to 4 days in Bangkok before they go to visit the rest of Thailand beauties.
The classical vacations in Thailand Start by 3-4 days in Bangkok, 2-3 days in Chiang Mai (Golden triangle) and finish by few days peaceful in one of the beach destination of Thailand (Phuket, Koh Samui, Koh Samet...).
Phuket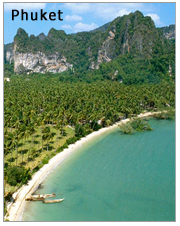 Located approximately 862 kilometers south of Bangkok is Phuket, Thailand's largest island, which is often dubbed as the pearl of the Andaman, or the pearl of the south. Its natural resources- rocky peninsular, limestone cliffs, white powdery beaches, tranquil broad bays and tropical in-land forests contribute to making it the South's wealthiest, busiest, most visited and most popular island and province.
Nestled in the tropical zone off the west coast of the southern part of Thailand in the Andaman Sea and the Indian Ocean, the province covers an area of approximately 543 square kilometers (excluding small islets). It is estimated that Phuket Province covers an area of approximately 590 square kilometers if its 39 other small islands are included. The islands total length, from north to south, is estimated at 48.7 kilometers and approximately 21.3 kilometers wide.
Phuket borders on Phang-nga Province to the north. The other 3 sides are encircled by the Andaman Sea the place where many of the best diving sites are located. The island is connected to Phang-nga Province by Sarasin Bridge and Thep Krasattri Bridge
The best period for a visit, is from November to February, when it is possible to see the clear blue sky, feel the fresh sea breeze and marvel at the crystal clear water while lying on powdery, palm-fringed beaches. Average temperatures ranges between 23 C and 33 C.
Chiang Mai / Chiang Rai / Golden Triangle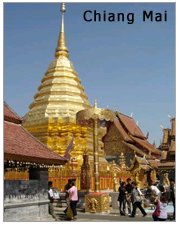 Experiencing the merging of the past into the present in Chiang Mai where locals are proud of the city's 700-year history. Its rich traditional heritage and unique culture is a perfect foundation for the development of the city. Chiang Mai is one of the few places in Thailand where it is possible to find in the heart of the city centuries-old chedis and temples next to modern convenience stores and boutique hotels. The original city layout still exists as a neat square surrounded by a moat with vestiges of the fortified wall and its four main gates offering prime access to the old town.
For years, tourists have mistaken Chiang Mai as the northern junction and the base from which they can explore other provinces. The phrase "a day in Chiang Mai is enough to see things around" was common. Today, tourists are surprised by the fact that there is always something new to discover Chiang Mai. Intriguing diversity among ethnic tribes coupled with breathtaking scenery makes Chiang Mai one of Asia's most attractive tourist destinations. Two weeks in Chiang Mai may not be long enough for serious travelers.
The old city of Chiang Mai with its fascinating indigenous cultural identity such as diverse dialects, cuisine, architecture, traditional values, festivals, handicrafts and classical dances is a prime location in its own right. In addition, the presence of hill tribes and their wealth of unique cultures enhance Chiang Mai's distinctive diversity.
Koh Samui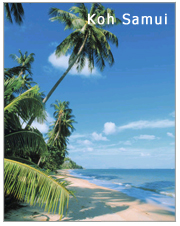 Koh Samui is an island in the Gulf of Thailand, some 700km south of Bangkok and about 80km from the eastern coastline of southern Thailand.
At 247km² Samui is the third largest island in Thailand and the largest island in an archipelago of over 80 (mostly uninhabited) islands which form the Ang Thong National Marine Park, a kayaking and snorkeling paradise. At 25km long and 21km wide, Samui is big enough for serious exploration by the adventurous and fit, but can be circumnavigated in just a couple of hours by motorbike or car.
Things started to change for Samui in the early 1990s when tourists started arriving in full boats and since then the place grew substantially. Samui is now the second most popular place as an island destination in Thailand (first is Phuket). Ko Samui may not be the country's most beautiful island but it is still an oasis of natural beauty with its white sandy beaches, dazzling coral, luscious lagoons, picturesque waterfalls, swaying coconut trees and crystal clear water.
Ko Samui is all in all a fairly big island. The most popular and commercialized beaches are Chaweng and Lamai, while the northern beaches and their adjacent villages of Mae Nam, Bophut, Bang Rak (Big Buddha) and Choeng Mon are more peaceful choices, and the west coast beaches are still (comparatively) quiet.
Pattaya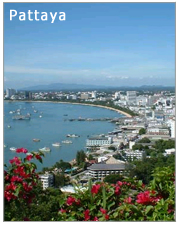 Pattaya is nestled along a picturesque bay on the East Coast of the Gulf of Thailand, roughly 170 kilometers southeast of Bangkok.
From a fishing village in the 1960's, Pattaya has emerged as the favorite Southeast Asian vacation center.
A fascinating escape where tourists, holiday makers and vacationers from around the world unfold an incomparable array of possibilities to unwind during an exotic holiday beach vacation.
Unlike other beach resorts, where natural surroundings are used as magnets to attract tourists, Pattaya makes an all-out attempt to provide the best of everything.
Here, everything means everything a tourist can imagine while on holiday: recreation, entertainment, sports, sightseeing and fun.
To put it simply, Pattaya is a paradise for everyone, as it has a variety of attractions suitable for all types of visitors. This is the place where you can fill your day, from dusk to dawn, with endless activities, or you may choose to do nothing at all and relax.
Hua Hin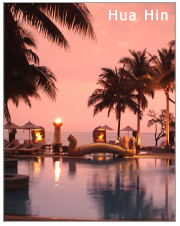 281 kilometers south of Bangkok, Hua Hin, which literally means stone head in Thai, is the oldest beach resort of the country and is still very popular. Clean white sand, crystal clear water and a tranquil atmosphere has continued to attract tourists in search of peaceful and relaxing holidays. 
The town was originally known as Ban Samoe Rieng, or Ban Laem Hin (Stony Point Village).
Hua Hin's consequence came with the opening of the Railway Hotel (known today as the Sofitel Central Hotel), an elegant Victorian-style resort hotel, and also the countrys first standard golf course. A cluster of royal and high-society residences gradually became more visible resulting in the transformation of the whole village into the first seaside resort of the country, where visitors could enjoy swimming, fishing, and golfing in the country's first standard golf course.
Today, Hua Hin is a well-established beach destination with word-class facilities coupled with a true sense of Thai hospitality. Despite its expansive growth and development as a luxurious destination, the splendor of Hua Hin remains intact. Remaining content in itself, Thailand's oldest seaside resort has never sought international recognition. It has continued to provide a peaceful and relaxed sanctuary in a picturesque environment that comes with a true sense of historical identity.
Koh Phiphi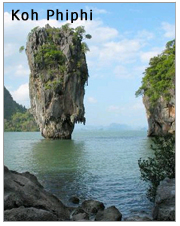 Pristine beaches, as yet unspoiled by the ravages of haphazard development are Krabi's main attractions. They continue to offer immense snorkelling and scuba diving opportunities.
The most spectacular is Hat Noppharat Thara-Ko Phi Phi National Park, better known as Phi-Phi Island, due west and south of Phuket Town.
In the park are two islands of outstanding yet contrasting beauty. These islands have become the symbol of the perfect tropical island. There are also extensive mainland beaches and over 80 lesser islands. The boat ride to Phi Phi Lea and Phi Phi Don from Krabi Town's Chao Fah Bridge Pier is a pleasant journey.
The perfect season for these enjoyable rides is during November to April. The trip can take between an hour and a quarter to three hours depending on the size of the boat. During the rest of the year, the Andaman Sea can be choppy and the weather can cause havoc with travel plans while at sea.
Krabi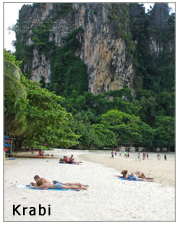 Located approximately 814 kilometers from Bangkok is Krabi Province, one of most attractive destinations in southern Thailand. Encompassing an area of 4,708 square kilometers, the western border of Krabi is the Andaman Sea, the northern borders are Surat Thani and Phang-nga Provinces, the southern borders are Trang Province and the Andaman Sea and the eastern borders are Nakhon Si Thammarat and Trang Provinces. Krabi is an ideal getaway destination teeming with natural attractions including white sandy beaches, fascinating coral reefs, numerous large and small islands and verdant forests with caves and waterfalls.
Krabi's topography is mostly mountains and highlands separated by plains in some parts. Flowing through Krabi City to the Andaman Sea at Pak Nam Sub-district is Maenam Krabi which is 5 kilometers in length. In addition, there are several canals originating from the province's highest mountain range, Khao Phanom Bencha including Khlong Pakasai, Khlong Krabi Yai and Khlong Krabi Noi. Lush mangrove forests line the canals and the banks of Maenam Krabi particularly before it empties into the Andaman Sea. The provinces sandy soil conditions are suitable for growing various agricultural products, particularly rubber trees, palms, coconuts, cashew nuts and coffee.
Koh Phangan / Koh Tao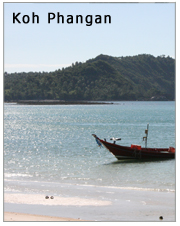 Ko Pha Ngan is an island about 168 km² in the Gulf of Thailand in South East Thailand. It is famous for its full moon party at Haad Rin Beach and as a backpackers destination.
Ko Pha Ngan has two sister islands: the larger Ko Samui to the south and the smaller Ko Tao to the north.
The infamous Full Moon Party, which often involves illegal drugs, occurs on Ko Pha Ngan every full moon of the month. Recently, though, steps have been taken to stop the drugs at these parties and make Ko Pha Ngan into a more family-friendly tourist destination.
Koh Samet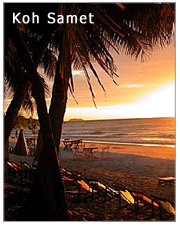 Located approximately 220 kilometers from Bangkok is another delightful resort on Thailand's eastern coast – Rayong province. A late bloomer, the province is well known for its pristine beaches stretching along a 100-kilometer coastline and scenic waterfalls amidst exotic surroundings. Aside from this, Rayong is blessed with an abundance of seafood products such as shrimp paste, fish sauce and dried seafood, and tropical fruits of which rambutan, mangosteen and durian are the most famous.
Covering a total area of 3,552 square kilometers, Rayong borders Chonburi Province on the north and the west, the Gulf of Thailand on the south, and Chantaburi Province on the east. Most of the land is marked by a series of mountains interspersed by flat plains and large tracts of forest and fruit plantations. Administratively, the province is divided into Mueang Rayong, Klaeng, Ban Khai, Bang Chang, Pluak Daeng and Wang Chan districts and Khao Chamao and Nikhom Phatthana Sub-districts.
Boasting indispensable sea-life resources, Rayong is one of the country's major agricultural and industrial provinces. On the other hand, the province has maintained its traditions and customs in the daily lifestyle of the locals. The best months to visit Rayong are from November to February.