Transport
Traffic is a real chaos in Bangkok, there are so many vehicles of all kinds that crossing the streets may become a real adventure!
 The best way to avoid it is to use the BTS elevated railway, the fastest and more modern way to move around...
But if you have to go through, be patient and don't make very tight schedules, give some "extra" margin for the traffic jams.
Taking the river boats is another way to avoid the traffic in the city center.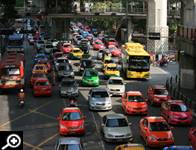 From Airport to Bangkok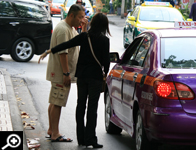 If you come from airport, you have many solutions to go inside Bangkok center city.
Public Bus Service: For Bangkok and area (35 baht.).
Public taxis: Public Taxis can be found on Level 1 (down level)
Taxi fare: metered taxi fare (around 200-250 bath) plus 50 Baht airport surcharge (sometimes included in meter price), and expressway fees (45 + 25 Bath).
Airport Express provides air-conditioned bus service:
Between Suvarnabhumi Airport and first-class Bangkok hotels,  Airport Express operates 4 bus routes to downtown.
Airport Express service operates  from 5:00 am to midnight and the cost is 150 baht for entire route.
Contact Airport Express Counter Level 1, near Entrance 8.
Airport  Link:  Airport Link, currently in testing phase. From 1 July, the train from Bangkok to Suvarnabhumi Airport and stops at Ratchaprarop Thubi Chang, in addition to the five stations that have been used since the early tests on 1 June.
According to the Railways of Thailand (SRT), 80,000 people have already taken this new means of locomotion.
During testing, the Airport Link is open to the public weekdays from 7am to 10am and from 16h to 19h, with a departure every 20 minutes. The journey takes about 30 minutes from the Phaya Thai station to the airport, with stops at Ratchaprarop, Ramkhamhaeng, Hua Mak Thubi Chang. The Airport Link is expected to start its commercial phase in August 2010. Airport link can be found on Level B1 and you can go Bangkok city for 140 THB.
From Bangkok to Province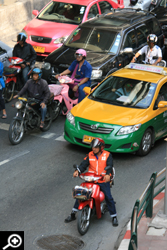 There is many solution for leave Bangkok and go to every province.
Bus Service: You can go everywhere in Thailand with bus for the cheapest price
Schedules or low coast Airplane companies:  Every touristic cities in Thailand get an airport (Chiang Mai, Pattaya, Koh Samui, Phuket, Hua Hin) but also every province capitals (Hat Yai, Udon Thani, Suratthani...) so it's possible to go everywhere by plane with a schedules planes companies in Thailand (Thai Airway, Bangkok Air, Air Asia) or Low cost Thai companies (Nok Air, one, two, go...)
Public Taxis: price depend of province you want to go, taxis have a reference price but you can negotiated it cheaper with the driver.
Train: There is in Thailand 3 big train line one for Malaysia, one for Chiang Mai and one for Nong Khai, their price is little bit more expensive thai bus companies but very attractive too.
Car Rental: You can rent a car from 1000 bath/day (extra charge around 3,000 bath if you don't give back tcar at the same place)
Taxis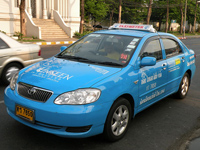 Taxis in Bangkok are fixed with a meter and have a sign "TAXI-METER" on the roof.
The minimum fare is 35 baht for the first kilometer. Then the rates are 5 baht per km for the 2nd-12th km, 5.50 baht per km for the 12th-20th km and 6 baht per km for the 20th-40th km, 6.50 baht per km for the 40th-60th km, 7.50 baht per km for the 60th-80th km and 8.50 baht a kilometer for any distance beyond that. There is a surcharge of 1.25 baht per minute for traffic congestion when the taxi moves no faster than 6 km/hr.
The rates also apply to trips to the provinces (1,300 to 1,500 bath for Pattaya) or take taxi meter for the airport (around 250 - 300 bath and 50 bath surcharge for airport).
A toll of 40 - 60 baht for expressway or toll way must be paid by the passenger.
Tuk-tuk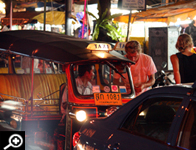 Tuk-tuk is a three-wheeled taxi without a meter or air-conditioning.
Fares must be negotiated beforehand, but they are normally a little cheaper than ordinary taxis and are suitable for short trips only.
There're a lot of Tuk-tuk around every touristic attraction and sometime is more easy to take one of them than a taxi. Many taxi don't want put meter when they stay around tourist place (as Patpong shopping or Grand Palace) or refuse to take care customer when they have to go to far with traffic jam.
Frequently Tuk-tuk drivers want stop in gems or jewels shop and ask to stay in shop 20 min for they get free gasoline, never accept that because when you go out from gem shop he send you with an other Tuk-tuk an you have to negotiate price one more time..
Motorcycle Taxi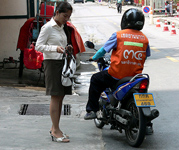 Due to heavy traffic in rush hours in Bangkok, nowadays motorcycle taxis are abundant.
Normally, a motorcycle station can be found at the entrance to a soi (lane).
Fares are about the same as Tuk Tuk except during rush hours when they may cost a bit more. If you are not really in a hurry, you'd better avoid using them as they are not safe.
Skytrain (BTS railway) and metro (MRT subway)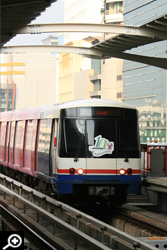 BTS Skytrain operates from 06.00 - 24.00 hours everyday with two main lines - Sukhumwit and Silom lines.
On the birthday of HM King Rama IX, 5 December 1999, an elevated two-line Skytrain (officially called BTS) metro system was opened. The remains of the failed BERTS (Hopewell) project can still be seen all the way from the main railroad station out towards Don Mueang Airport. Due to the Asian financial crisis of 1997 construction was halted and the concrete pillars were left unused.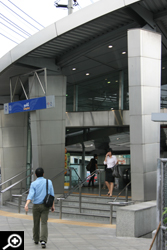 The MRT subway system opened for use in July 2004. The MRT connects the northern train station of Bang Sue to the Hua Lamphong central railway station near the city centre, while also going through the eastern part of Bangkok. It connects to the BTS system at BTS stations Mo Chit, Asok, and Sala Daeng.
Currently, transit and development projects initiated by ousted former Prime Minister Thaksin are gaining in popularity with the currently elected government, and have a possibility of being resumed and extended.
A new high speed elevated railroad called the Suvarnabhumi Airport Link connect the city with the new Suvarnabhumi Airport since december 2010. The rate for come from Airport to center of Bangkok is around 70 Thb.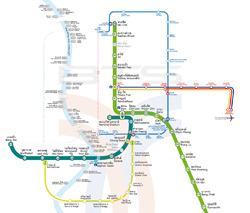 There are plans to extend the line to Don Mueang and Rangsit, but again, this is very dependent on the political situation.
Plans have been approved for a further extension of the BTS Silom line from Wongwian Yai to Bangwah (4.5 km/2.8 mi), Sumrong to Samut Prakarn (8 km/5.0 mi), Mo Chit to Saphan Mai (11.9 km/7.4 mi) and the National Stadium to Phran Nok (7.7 km/4.8 mi). This includes five underground stations in the Rattanakosin area.
The State Railway of Thailand has also been given approval to complete the Dark Red and Light Green lines. Alongside, MRT has also begun construction on two new lines, the Purple line from Bang Yai to Bang Sue, and the Blue line from Hua Lampong to Bang Khae and Ta Pra. 
| | | |
| --- | --- | --- |
| Skytrain station (BTS) | | Subway station (MRT)  |
Car Rent
Cars are easily rented at rental shops and companies all around Bangkok. The bigger international car rental brand can be find in Bangkok (Budget, Avis, Hertz, Rent a car...), they are more expensive than local rental shop (from 1,200-1,500 THB/day) but with international brand you are sure about full insurance.
Train
For intercity travel by train, most passengers begin their trips at Hua Lamphong at the southern end of the MRT.
Here, trains connect Bangkok to Malaysia in the south, Chiang Mai to the north, and Nong Khai to the northeast and beyond to Laos.
Every line have many stop for each big Thai city, for a good price (around 1,500 THB for exemple from Bangkok to Suratthani) you can have air-conditioning VIP night train for go in north, south or northeast.
Bus service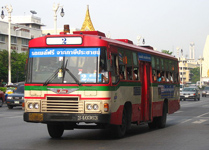 The Bangkok Mass Transit Authority service area covers Bangkok Metropolis and its suburban areas in the adjacent provinces of Nonthaburi, Samut Prakan, Pathum Thani, Nakhon Pathom, and Samut Sakhon.
It serves approximately 3 million passengers per day. The service hours are 05.00-23.00 hrs, except 24-hr night-owl service on some routes. In September 2005, BMTA owns a fleet of 3,579 buses comprising 1,674 ordinary buses and 1,905 air-conditioned buses. In addition to BMTA-owned buses, there are 3,485 private-own contract buses, 1,113 contract minibuses, 2,161 side-street songthaews, and 5,519 vans. In total, there are 15,857 buses and vans over 427 routes across 8 zones.
Virtually all cities and provinces are easily reached by bus from Bangkok.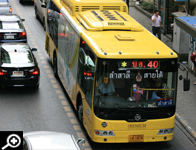 For destinations in the southwest and the west such as Phuket, Krabi, Koh Samui..., buses leave from the Southern Bus Terminal, west of the city in the Thonburi area.
For destinations in the southeast, such as Pattaya, Ko Samet and Ko Chang..., buses leave from the Eastern Bus Terminal at Ekkamai.
For all destinations north and northeast, the Northern Bus Terminal is at Mo Chit. Bangkok's less accessible southern terminal was recently moved even farther out.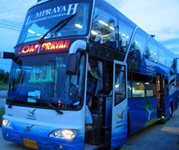 Though Bangkok is well connected to other cities, getting to the bus terminals often are a challenge in themselves.
You can also go by air-conditioning VIP bus and boat in some island like Koh Samui (Bus from Bangkok to Chumpon then Hi-Speed Catamaran from Chumpon to Koh Samui (after stops in Koh Tao and Koh Phangam).
This trip is quite long (12 hours) but cheap (1,000 THB) with privite company Lomprayah (www.lomprayah.com)
Airports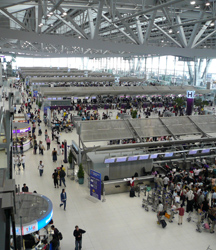 Bangkok is one of Asia's most important air transport hubs. In 2005, more than ninety airlines served Don Mueang International Airport. It was the 18th busiest airport in the world, second busiest in Asia by passenger volume, 15th busiest in the world and fourth busiest in Asia in international passenger volume.
Don Mueang consistently ranked 19th in the world in cargo traffic, and seventh in the Asia-Pacific region. Don Mueang is considered to be one of the world's oldest international airports, its opening in March 1914 making it almost twenty years older than London Heathrow. It has three terminals and is located about 30 km (19 mi) north from the heart of Bangkok.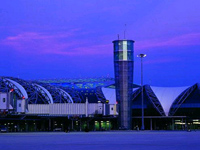 On 28 September 2006, Suvarnabhumi Airport, became Bangkok's official international airport, replacing Don Mueang. Pronounced Suwannaphum, or loosely Su-wan-na-poom, the airport is located southeast of the city center in Bang Phli district, Samut Prakan Province. The progress of Suvarnabhumi Airport dates back to the early 1970s when a large plot of land 8,000 acres (3,237 ha) (32 km²) was bought. A student uprising in October of the same year prevented further progress with the development when the military government of Thanom Kittikachorn was subsequently overthrown. After several military coups and the Asian financial crisis of 1997, construction finally began in 2002, after five years of clearing the site.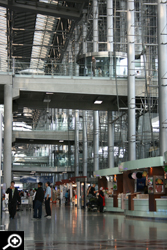 The first flights landed in September 2006, shortly after another military coup. Its two parallel runways are connected by the five concourses of the main terminal building. The airport features a 132.2-metre (434 ft)-tall control tower, the tallest in Asia and one meter (3.2 ft) taller than Kuala Lumpur International Airport control tower. It is the tallest stand alone purpose built control tower in the world. Airports of Thailand Plc. (AoT) have announced another terminal to accommodate a further fifteen million passengers. This will be part of Phase 2 of the airport, which is expected to begin construction in three to five years. The main airline of Suvarnabhumi is Thai Airways International.
Much of the construction of Suvarnabhumi Airport took place during the premiership of Thaksin Shinawatra, who took personal responsibility for its timely completion. Despite a "ceremonial" opening on the planned date, construction was over a year late. Continuing controversy surrounds the quality of planning and construction; accusations include cracks in the runway, overheated buildings, a severe shortage of toilet facilities and lengthy passenger walks to departure gates. The fact that the airport is already overcrowded and near its maximum capacity less than a year after opening is another concern.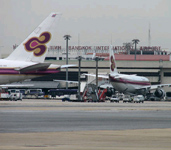 Don Mueang remains in use as a base of the Royal Thai Air Force.
Most of the low-cost airlines now use the airport for domestic flights, in an effort to ease congestion at Suvarnabhumi, until the next terminal is opened.
River and canals network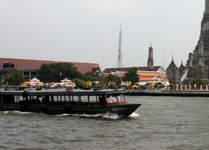 An elaborate network of canals known as khlongs gave Bangkok the nickname "Venice of the East" at a time when most transportation was by boat.
Today, nearly all of the canals have been filled in and converted into streets. While many khlongs still exist with people living along them and markets often being operated along the banks, most are severely polluted.
A notable khlong market is the floating market in Taling Chan district. Through downtown Bangkok runs the Khlong Saen Saeb, which has a canal boat service, the most extensive of which is the Chao Phraya Express Boat with as many as thirty stops along the both banks of the Saen Saeb.
However, there are limitations as the further north the route is the farther apart the stations are, impeding the ability of this water taxi to function as a true mass transit system.
River taxis & Ferries can be used on the Chao Phraya River. Some are just cross-river ferries, but others serve the many landing stages on both banks and cover a route that goes up as far as the northern suburb of Nonthaburi.