Ambar
AmBar Bangkok is a rooftop with a difference. Located on the 8th floor of the Four Points by Sheraton Hotel on Sukhumvit 15, it doesn't quite scrape the sky. But what it lacks in stature, it more than makes up with a great range of drinks, food and a chilled out atmosphere that is far more enjoyable than some of the more famous rooftops in Bangkok. Add to that the great range of events and deals that always seem to be happening here and you can see why it has become a popular spot for those who usually spend their time on Sukhumvit 11. It's the kind of place that's suitable whether you are coming with a group of friends or for a romantic evening curled up on the day beds made for two. It's open from 16:00 until 2:00 every evening.
Like we said, it might not be the highest point in the city, but we really enjoy lounging around on the rooftop at AmBar, and the view is pretty cool too, with the tall buildings of Asoke towering around you and nothing but the stars above your head. It's a sleek modern design that avoids any sharp corners, with curved bucket chairs, padded circular loungers and a flight of metal butterflies behind the long bar. Orange accents and leafy greenery add some colour to the monochrome palette. The swimming pool is framed by a glowing red arch and when the rooftop hosts their famous pool parties the area has a great buzz. The weekends also have a celebratory vibe, on Fridays and Saturdays DJs play house music from 21:00 onwards. Staff are friendly and efficient – the bar may be chic but there are no airs and grace here, just warm, welcoming service.
Cocktails start at 320 baht and cover all the classics: black Russian, margarita, mai tai and bellinis. The skilled mixologists behind the bar have also created their own list of Ambartinis (330 baht), which have a Thai and Asian feel. We love the mango –tini, which is a muddle of fresh fruit and lemongrass, or for a drink based on your favourite spicy soup, then try the tom yum-tini, which has a herbal edge thanks to the addition of oregano. One of the promotions at AmBar is the supersize cocktail, where they take your favourites and quadruple the mix in a glass the size of an ice bucket (600 baht)! Perfect for sharing and makes a great photo opportunity too. Compliments to the ladies come in the form of free sangria every Thursday evenings from 20:00 till 22:00. Gents get two for one on beers and everyone gets free paella.
This is not merely a bar; they also serve a great range of food, from light bites like spring rolls (250 baht) and calamari (200 baht) to full meals. Whether you are after a salmon steak (580 baht) or a pad Thai, there are dishes to suit every taste and fancy here. For those who always check out the dessert section first, we recommend the mango cheesecake with hazelnut crumble (190 baht). AmBar also has a range of excellent food deals that change monthly, mostly recently a Thai Issan menu with dishes starting at 250 baht.
Ambar at Four Points by Sheraton is a great place to spend an evening, and depending on which night you visit you will find anything from a wild pool party to chilled out cocktails with free food.
Open: Daily from 4 pm to 2 am

Getting There:
by taxi or BTS skytrain (Nana or Asoke Station) with a little walk
Address:

At Four Points by Sheraton
4 Sukhumvit 15,
Bangkok 10110
Tel: +66 2 309 3000




click for view map
Photos Gallery: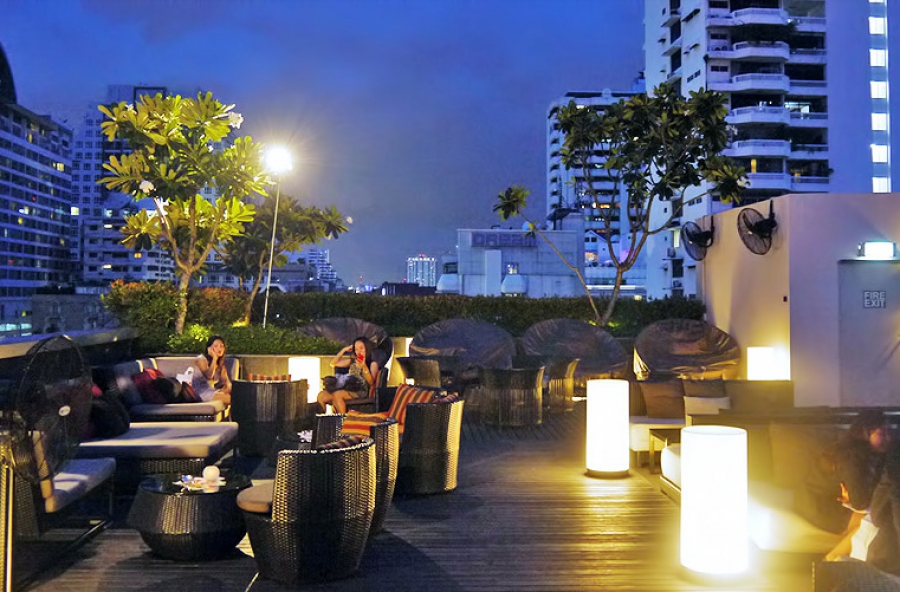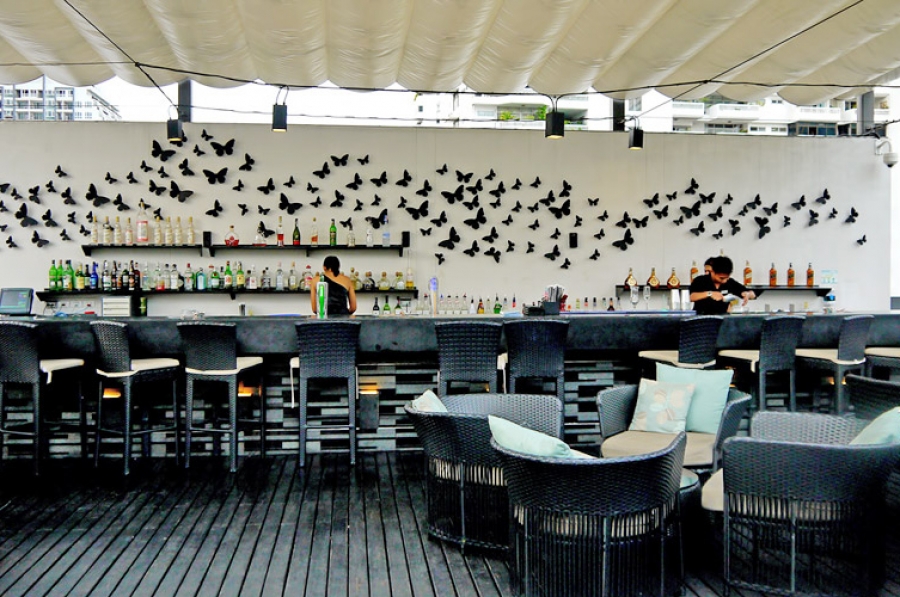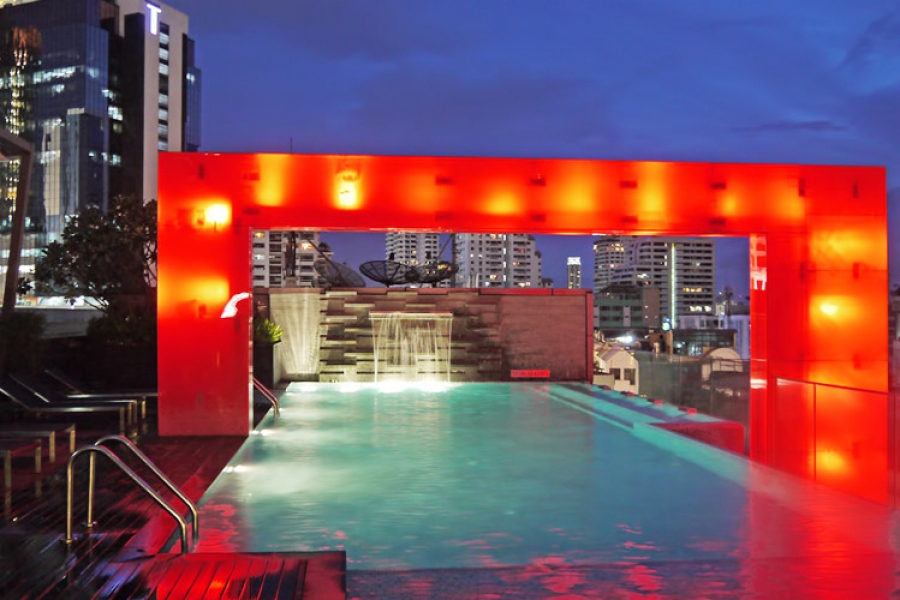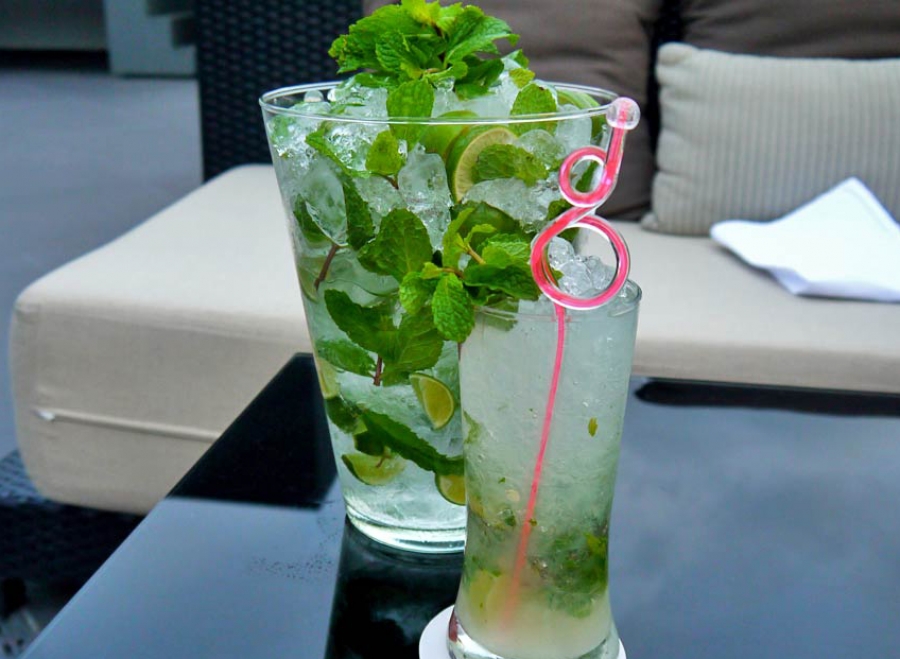 Videos: