Wat Chakrawat
A short walk from Ratchawong Pier will bring you to Wat Chakrawat. Although the main temple compound is rather small, the temple houses one of the three largest groups of monks and novices.
Inside the small temple compound, a great many buildings in different styles are all crammed in together. Off to the right as you walk in the gate is a small wiharn with an outer wall decorated in a very unusual black and gold pattern. This type of decoration is more commonly found on interior walls or roofs. Next to the black wiharn is a larger wiharn in a more traditional style.
On the left of the entrance is a stairway leading to a platform containing a mondop topped with a prang. The mondop houses a Buddha footprint shrine. Beneath the north side of the platform are two small ponds holding a few scraggly crocodiles. The practice of keeping the beasts here supposedly began when one was found in the Chaophraya River just beside the temple.
Further north of the crocodiles, a large modern prang juts into the air. The decoration of this prang is rather simply elegant, compared to the gaudiness of prangs at Wat Arun or Wat Po. Gold is used rather sparingly to decorate and draw attention to the standing Buddha images facing out from the four sides of the prang.
The temple's large all-white ubosot sits opposite the prang. The building is normally closed.
Back against the eastern wall of the compound is another small wiharn housing a reclining Buddha statue. Next to this is a sort of concrete grotto with several small memorials to departed loved ones. In the center of the grotto is a black shape referred to as the Buddha's shadow. Some worshipers have placed their gold leaf offerings on the shape.
In a small niche next to the Buddha's shadow is a small image of a fat monk. The story goes that the monk was so handsome that he was always suffering the unwanted attentions of the ladies. In order to discourage them, he gorged himself to obesity to make himself less attractive.
Getting There:
River ExpressThe easiest way to reach Wat Chakrawat is by boat to the Ratchawong Pier. From the pier, walk up Ratchawong road and turn left at the first small alley. The southern entrance to the temple is where the alley makes a sharp turn to the right. You walk by the temple's school and large living quarters to reach the main compound.
Photos Gallery: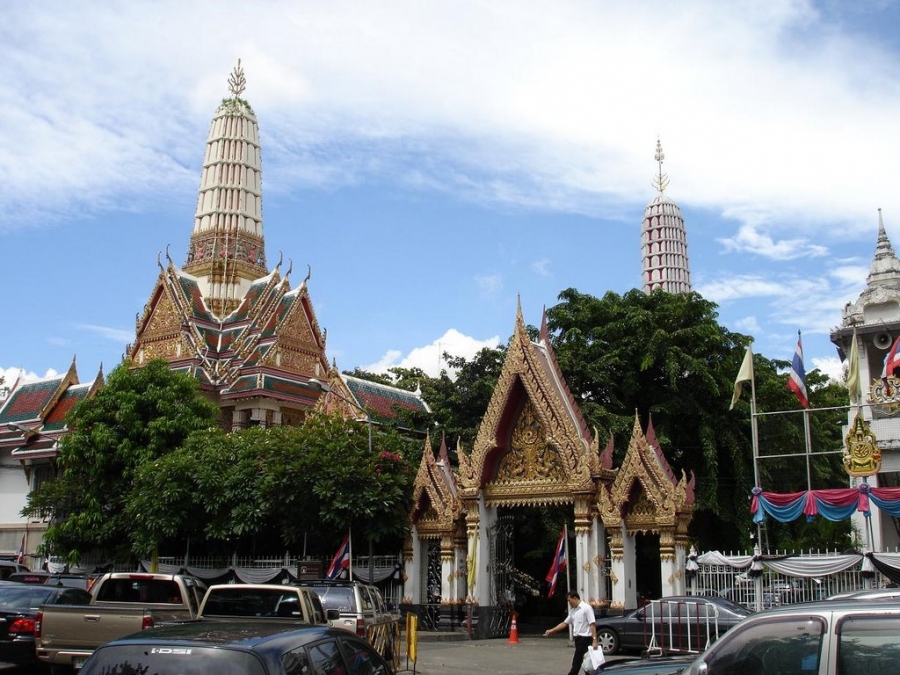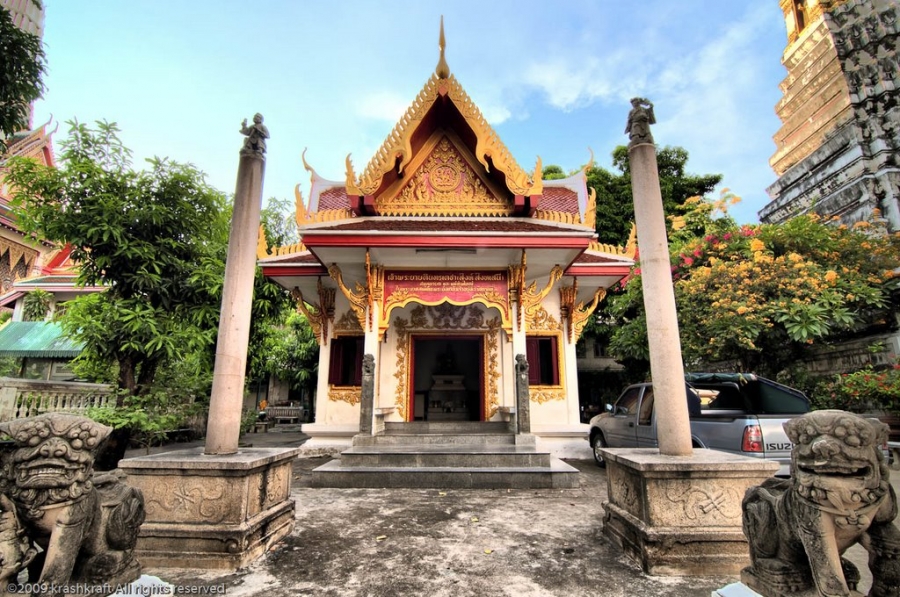 Videos: