May Kaidee (Closed)
Vegetarian - $
Located just a short walk from Khao San Road, this shophouse restaurant is a tourist destination in its own right. Listed in travel guides like Lonely Planet and Frommers, it has been providing backpackers reliable meat-free meals for almost two decades.
Greeting you in front of the restaurant is a life-size poster of May, the friendly owner, dressed in a traditional costume. Once inside, the atmosphere is relaxed and welcoming with only a handful of tables scattered around the air-con dining room.
Don't be surprised to find yourself the only Thais dining there, though. The menu offers over 50 vegetarian dishes along with herbal teas and smoothies. The food is MSG-free, the fish sauce replaced by soy sauce and, given its audience, the cooking is easy on the chilies and heavy on the coconut milk and tamarind. But tourist trap it is not.
Though some dishes are muted to suit overseas palates, May Kaidee still doles out tasty recipes. The trick is knowing what to order. Skip obvious farang favorites like the rather sweet fried rice with pineapple and run-of-the-mill pad thai.
We can't recommend the lackluster pumpkin soup either. Go for what they do best—unpretentious homely Thai dishes. The deep-fried seaweed served with peanut dip is addictive, while the banana flower salad strikes a nice balance between sweet and sour. We also love the lon tao jiao.
Loaded with seaweed, tofu and mushrooms, the savory dish is made with fermented soy beans and coconut milk and has a nice spicy kick. The cooking might not be that consistent but the eatery makes up for that with fast and friendly service, generous portions and pocket-friendly prices.
May and her equally cheerful staff are delighted when they see Thai diners. On our recent visit, we even got a discount on the already cheap dinner. And if you want an all-you-can-eat, vegetarian feast, head to May Kaidee's other outlet (behind Khao San's Burger King) on Saturdays when they host a buffet dinner.
Opening Hours: daily 8am-10pm
Getting There:
by taxi only
Address:

33 Samsen Road,
Watsamphraya, Phra Nakhon
Bangkok 10200
Tel : +66 89 137 3173
Website: www.maykaidee.com
Email: veginfo@maykaidee.com
Photos Gallery: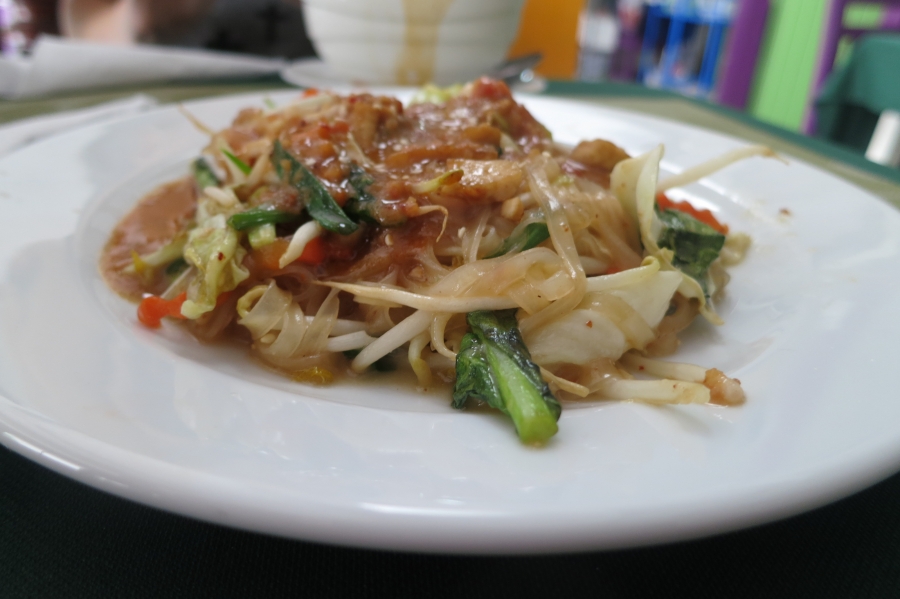 Videos: